cleaning and grease removing detergent: capacity 5 l; ph – alkaline.
Product Description
POWER CLEAN 14 is a strong, alkaline cleaning and grease-removing detergent for medium or heavily soiled waterproof surfaces in professional kitchens and places of food processing. Intended for cleaning of working surfaces, walls, doors, floors, ovens and other professional kitchen equipment. Does not foam much, without scent and color. Prepare working solution, clean the surface and rinse. Wash floor with mop, if necessary, rinse. If necessary, dosage can be increased.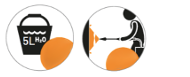 Vēlaties šo preci? Sazinieties ar mums sev ērtā veidā!