Concentrated floor cleaning detergent; EU ecolabel; for medium and heavily soiled floors in professional premises, dries quickly.
Product Description
Techno Floor Forte is an ecological floor cleaning detergent. Intended for occasional and daily cleaning of all waterproof surfaces by washing with a mop or fabric. Techno Floor delivers streak-free results. It quickly removes light to moderate soiling from PVC, linoleum, ceramic floor tiles, etc. Do not use Techno Floor on untreated wood or parquet floors. This product bears the European Ecolabel. Techno Floor is free from chlorine compounds, other halogen compounds, inorganic acids, and petroleum-based surfactants. All surfactants used in these product originate from vegetable sources. All ingredients of non-mineral origin are fully degradable.
Use: manual and machine – prepare 0.5% solution by adding 40 ml of Techno Floor Forte in a bucket of 8 l of water, wash the floor with a mop or fabric. No need to rinse, concentration can be doubled, if the surface is particularly soiled. Concentration can be doubled, if the surface is particularly soiled.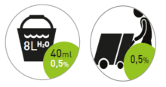 Vēlaties šo preci? Sazinieties ar mums sev ērtā veidā!