Mop with hight water and dirt absorbation.
Article Number4084;-82;-83;-85
ManufacturerVermop
Materialcotton/ polyester/microfibre
Propertiesgreat dirt removal and good water absorption
Purposesuitable for different areas of use
Product Description
The Sprint Tronic mop system is designed for cleaning all types of floors. Thanks to the extremely low weight of the mop holder, the excellent slip and the telescopic (pull-out) handle, cleaning is convenient for any user. Maximum coverage of the surface to be cleaned significantly saves cleaning time and ensures high quality results. The pedal mechanism allows you to quickly and easily release the mop from the mop holder by simply pressing the pedal. 
Thanks to the Tronic mop, it is possible to collect significantly more dirt, as well as it ensures successful hair removal from the surface. Good water absorbation. The Tronic mop provides the highest quality cleaning thanks to its high quality materials (combination of cotton, polyester and microfibre). Colour coding to ensure highest cleaning standarts in all areas.
Care of the mop: Before using the mop for the first time wash it machine at 90 ° C. Daily care: wash at 90 ° C up to 700 times.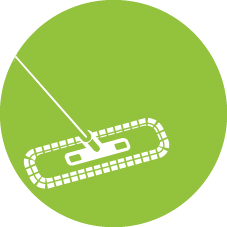 Articles: 4084 – blue stripes 408482 – red stripes 408484 – green stripes 408485 – yellow stripes